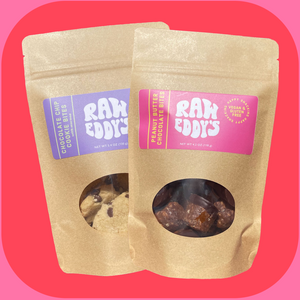 Our two best sellers in a combo pack! Send as a gift to your bestie or treat yourself to  the best of both worlds! All our snacks are always plant based, vegan, gluten free, and packed with adaptogens that can help boost your brain health! 
This Sampler Pack includes one Peanut Butter Chocolate pack and one Chocolate Chip Cookie pack. Your snacks can be stored in a cool dry place or in a refrigerator to keep its freshness longer. Protein bites can also be stored in the freezer for up to 360 days. 
Winter Shipping -
Orders will ship throughout the week, as your order is made fresh!
Summer Shipping -
Orders will be shipped out Mondays, Tuesdays, and Wednesdays. Any orders placed Wednesday after 1pm - Sunday will be shipped out on the following Monday.
Local Deliveries - 
Local delivery for Salt Lake area will be distributed Mondays - Fridays between 8am-8pm.